Rafael Anton Irisarri
Rafael Anton Irisarri - Daydreaming
(Miasmah 2007)
Seattle-based multi instrumentalist Rafael Anton Irisarri is the latest in a growing number of electronic musicians returning to that hallowed of instruments – the piano. It has become something of a cliché now for the electronic musician to turn to the humble keys in the hope of adding something organic into the mix, but it would be frivolous to pass 'Daydreaming' off in such a manner. Rather than an electronic album with elements of piano, 'Daydreaming' sounds like a record written for piano which somehow manages to utilise current technology in its production. As the drifting synthesizers lap around the feet of a majestic piano part in the album's opening track 'Waking Expression' it is startlingly clear that there is more to Irisarri than mere stereotyping. Rather this is a carefully constructed soundtrack to your most intriguing dreams, the dreams you might remember for a split second before losing everything, only to have images creep up on you some time later. Those of you left spellbound by Deaf Center's haunting and beautiful 'Pale Ravine' album will be pleased to know that 'Daydreaming' continues in the tradition of murky, theatrical and deeply imaginative music quite wonderfully. Even Lynch is hinted at again with the album's clear highlight 'Lumberton' (possibly a reference to Blue Velvet's troubled small-town) and as the emotive piano shimmers around radio static and lightly picked guitar it is impossible not to get drawn into the shattered American dream. This is rich, visual music showing a dark, melancholic side to American life and captured perfectly by an artist unafraid to bear his soul to the world. Uncluttered and subtly realised, 'Daydreaming' is maybe best summed up as it draws to a close with a gaseous ambience, drawing you in for the last time before the inevitable repeat play. Pure, uninterrupted bliss.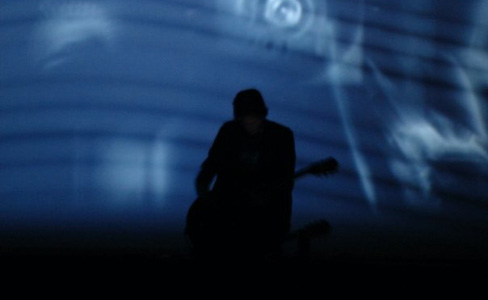 Bio:

RAFAEL ANTON IRISARRI - Rafael Anton Irisarri's music is a dual perspective close-up focus on the micro textures of rustling static-filled sonic surfaces with the wide-open distant tree lined horizons of sunset at dusk. Submerged piano melodies, reverberating guitar tonalities and electronic punctuation all contribute as the converging elements, but it's his hand at electro-acoustic composition that offers the listener the often breathtaking vantage into this sonic world. The combined effect is one of time passing in introspection, remembrances of landscapes and the nature of our relationship with things past as we move toward those yet to come. Plaintively yearning, his music never resigns itself to the stoicism of the melancholic, but is asking, moving, and drawing us into a state of hearing, seeing and recognizing the scale, scope and richness of the natural world and ourselves in the everyday.

This music draws as much on modern genre progenitors like

Brian Eno, Robin Guthrie

and

My Bloody Valentine

as it does from the more historic traditions in neo-classicism from

Erik Satie

and

Olivier Messiaen

. It's this intersection of sounds, both traditional and modernly avant, that make for the balancing act that can be described as something beyond just 'ambient' or 'cinematic' in his music; it brings the listener to a state somewhere between emotionally entranced and psychologically adrift.

Words by Jefferson Petrey, Seattle (2008)

- Miasmah
***********************************************************************************************************************************************************************************************************
- And the new album from from the excellent Room40 label:
Rafael Anton Irisarri - The North Bend
- (2010)
Rafael Anton Irisarri's music is rich in imagery, and like

Wolfgang Voigt

's corpus as

Gas

it seems to paint a synthesized portrait of a particular place and time without getting too directly involved in it, in the more documentary style of Chris Watson and the like. During The North Bend you'll hear sounds that draw you into natural landscapes, but also muffled micro-melodies and huge, immersive sonic vistas fashioned from gusty electronic plumage. The standard and scope of production places Irisarri within the upper crust of artists in his field, and as with his work as The Sight Below the well-rounded depth of his sound will keep you returning time and time again. From the anthemic, looped fanfare of 'Traces' to the intoxicating, balmy orchestrations of 'Blue Tomorrows', every corner of this album brims not only with artistry and accomplishment but also a stealthy emotive grandeur that holds your attention for long after the record has finished. So yes, it's a struggle to convey the sense of what this music is without getting a little bit wishy-washy or sentimental, but The North Bend is without doubt one of the more worthy albums of its kind and deserving of your full and immediate attention. Highly Recommended.

- Boomkat
LIVE AT OPENFRAME FESTIVAL (CAFE OTO. LONDON. UK. 2010)
- 32 minutes streaming @ Soundcloud.
- Rafael Anton Irisarri is also a member of
The Sight Below
STUDIO IRISARRI