Thomas Barber's Janus Bloc - "Snow Road"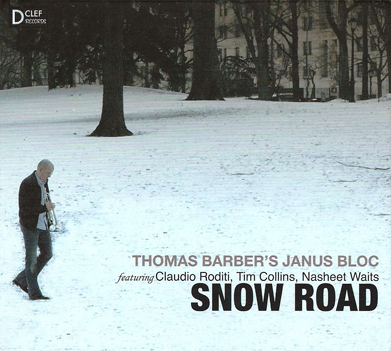 Thomas Barber's Janus Bloc - "Snow Road"
A big band album I really like (I'm pretty picky about the big band I listen to). Tim Collins plays vibes on a couple tracks. It could be the album title and cover that's influencing my opinion, but the music on this album, I can almost feel the winter drifts of snow outside their recording studio. Barber attains a tremendously warm sound from song to song. My favorite tracks thus far are "Song for Snow Road" (which has this wonderful ominous feel to it, even at its happiest moments) and "The Mind Beneath" (which I like just because I like it, can't really explain why).
These guys sound like they've been playing together since they were little tikes.
Here's his site, where among a lot of tracks from different projects, he has four of the eight tracks for listening, plus some minute samples for the rest.
http://thomasbarber.com/live/
Available on emusic, if you haven't yet quit in disgust over their new pricing structure.
http://www.emusic.com/album/-Snow-Road-MP3-Download/11891994.html