Sir BN's Best Of / Notable Albums Of The Year 2017 list . . .
Same procedure as
last year . . .
- In an attempt to to highlight some of the most signifficant releases for me, with the usual caution that, at another time and day, the list and the sequence would shurely be different.
- Not to mention all the albums under my radar, I have'nt had the time or capacity to dig into.
So for what it's worth, here is the first batch.
#1
Ian David Rosenbaum
- "Praised for his "excellent" and "precisely attuned" performances by the New York Times, percussionist Ian David Rosenbaum has developed a musical breadth far beyond his years. He made his Kennedy Center debut in 2009 and later that year garnered a special prize created for him at the Salzburg International Marimba Competition.

Mr. Rosenbaum joined the Chamber Music Society of Lincoln Center's CMS Two program in 2012 as only the second percussionist they have selected in their history. He has appeared at the Bay Chamber, Bridgehampton, Chamber Music Northwest, Music@Menlo, Norfolk, and Yellow Barn festivals. Highlights of the 2016-2017 season include the world premiere of Quixote, an evening- length theatrical work with music by Amy Beth Kirsten and direction by Mark DeChiazza, a visit to the Adam Chamber Music Festival in New Zealand, and world premieres by Andy Akiho, Christopher Cerrone, Thomas Kotcheff, and Polina Nazaykinskaya, among others. In the fall of 2016, Mr. Rosenbaum will release his first solo album, Memory Palace, on VIA Records. It features five commissions from the last several years and includes collaborations with Brooklyn Rider and Gina Izzo. Mr. Rosenbaum is a member of Sandbox Percussion, HOWL, the Pittsburgh New Music Ensemble, Foundry, and Novus NY. He has recorded for the Bridge, Innova, Naxos, and Starkland labels and is on the faculty of the Dwight School in Manhattan. Mr. Rosenbaum endorses Vic Firth sticks and mallets."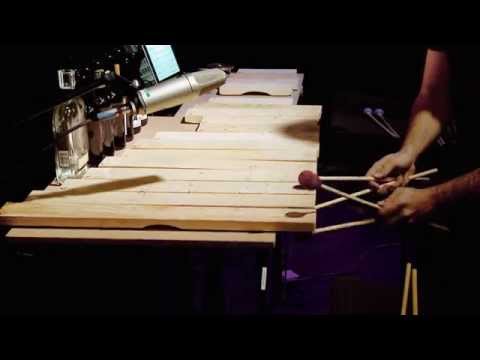 Ian Rosenbaum performs Christopher Cerrone's Memory Palace
________________________________________________________________________________________________________
#2

Co-composed by Lao Luo and Bang on a Can founders Michael Gordon, David Lang, and Julia Wolfe, Cloud River Mountain is an edgy cross-cultural collaboration between the Bang on a Can All-Stars and the extraordinary Chinese vocalist Gong Linna, whose dynamic voice covers a vast canvas of sonic colors. Linna has drawn comparisons to Björk with her adventurous range, embracing Chinese folk, pop, and avant-garde art music with a sure-footed confidence that transcends borders.
On Cloud River Mountain, she sings in both Mandarin and English over the groove-driven melodies and lush soundscapes of the All-Stars, weaving ancient Chinese storytelling together with Western songwriting in a raucous musical mix. Inspired by the verses of classical Chinese poet Qu Yuan, these seven songs channel the mystical stories of the past and merge them with the churning, clanging sounds of the future.
_______________________________________________________________________________________________
#3
Composers: Daníel Bjarnason, Þuríður Jónsdóttir, María Huld Markan Sigfúsdóttir (
Amiina
),
Anna Þorvaldsdóttir
, and Hlynur A. Vilmarsson).
- "Can you hear a country in its music? Does Venice echo in Gabrielli's buoyant antiphonies? Can you glimpse Bohemia in the lyrical effusions of Dvorak and Smetana? Does the United States of America sound like Copland's heartland or Ellington's Harlem? Like Peter Garland's desert, or John Luther Adams's tundra? There can be no definitive answer; every traveler usually brings personal baggage. I reckon that I do sense Iceland's mutable skies and rugged terrain in the slow-moving luminosity of Thorvaldsdottir's Dreaming. Likewise, the static/chaotic duality in Daníel Bjarnason's shivering, rumbling Emergence evokes awesome powers coalescing in some act of primal creation. Thurídur Jónsdóttir's Flow and Fusion, with its seamless blend of acoustic and electronic sounds, conjures the ineffable chiaroscuro of Iceland's sky."

-
Sono Luminus
-
WQXR Review
___________________________________________________________________________________________________
#4
This CD premieres ten works from David Lee Myers, the "Darwin of electromagnetic lifeforms."
The album's content spontaneously emerged from Myers' self-designed, hand-built conglomerations of elaborately interconnected sound processing devices, with no external audio input. Some call the results "sounds from the ether" (hence this album's title).

The CD's music is distinctive and enticing. We hear an hallucinatory trip to a Martian jungle; irregular bongos overlaid with frog-croaked arpeggios; a rapidly sputtering, helium-inhaling synthesizer; a demented organ, gasping for life; all concluding with the placid atmosphere of dorsal streaming, tinged with calming panpipe-like chuffing.
"My sound works are the result of capture, selection, processing and combination. Essentially, I do not create sounds or compose, but allow latent or unseen forces and processes to present themselves via simple technologies. I select the methods, set the stage, and as the phenomena emerge I of course introduce my own aesthetic judgements to the mix. Therefore the sounds which are presented are neither completely random science nor the gesture of an artist's hand, but something between the two, and I believe this to be the most effective approach toward evoking meaningful impressions of unseen worlds."





Collaborations with other artists have included Asmus Tietchens, Tod Dockstader, Ellen Band, Marco Oppedisano, Thomas Dimuzio, Gen Ken Montgomery, Alexander Ross, and VidnaObmana.
______________________________________________________________________________________________________
#5
The One Ensemble's new album 'Saint Seven'. A through-composed 40 minute piece of post-punk orchestral folk, featuring accordions, bass clarinets, cello, percussion, guitar and voices.
Saint Seven, played in the round by The One Ensemble, is a dramatic hybrid of voices and instruments that seamlessly interweaves elements of experimental, folk and classical chamber music. Challenging conventional approaches to performance, this epic acoustic quartet is shot through with a rare theatricality.
The One Ensemble is a Scottish-based quartet comprising cello, clarinet and bass clarinet, guitar, accordions, percussion and vocals. Working collaboratively, this highly individualistic group creates songs and compositions that weave esoteric narratives around joyous centres, chameleon-like in its ability to move between various genres without losing its unique identity. Incorporating Eastern European traditions with a distinctly Anglo-Scottish twist, classical chamber music, minimalism and the experimental avant-garde into a heady brew, their music is otherworldly, magical and unmistakable. Individually and together the members of The One Ensemble are artists who draw on hidden folk heritages and influences from diverse European musics whilst retaining a distinctly contemporary sound of their own.

_______________________________________________________________________________________________
To be continued . . . the plan is about 20 to 25 albums followed by some honorable mentions, reissues and stuff from the vaults.