Sir BN's Best Of / Notable Albums Of The Year 2016 list . . .
Same procedure as
last year
.
Posted with the caution (or reservation) that It's very likely that there's albums forgotten about and albums I haven't had the capacity to check out.
- And that the order could have been different at another time / day
So for what it's worth, here's the first five:
.
Steven van Gils (tenor)
Tiemo Wang (baritone)
Maciej Straburzynski (bass-baritone)
Pepe Garcia Rodriguez (percussion)
Enric Monfort (percussion)
Frank Wienk (percussion/laptop)
Yannis Kyriakides (composition/text)
Fedor Teunisse (musical direction)
Romain Bischoff (vocal direction)
- "Lunch Music by composer Yannis Kyriakides is a set of pieces for voices, percussion and live electronics, inspired by the 1959 book Naked Lunch by William S. Burroughs. On this recording the virtuosity of percussionists Slagwerk Den Haag (recently heard on the recording of Michael Gordon's Timber) and contemporary vocal specialists of Silbersee are embedded in a rich sonic environment of electronics, modulated voices, grinding pulses and hallucinatory noises. The concept of the music revolves around the idea of the polyphony of voices found in Naked Lunch. The effect of one voice speaking through another, of mediumship and possession, is a central musical concept in the piece, and it is manifested in the way the live electronics, controlled by the percussionists modu- lates the voices of the singers and the various fragments of samples heard: from the voice of Burroughs to snippets of 50's pop songs. The piece, originally commissioned by Slagwerk Den Haag, was composed for the dance/music theatre piece of the same name, produced by Club Guy and Roni, Slagwerk Den Haag and Silbersee, that toured The Netherlands in the season 2013/2014 and is touring again in Spring 2016."
- "performs and develops contemporary percussion music in its most diverse forms: from existing repertoire, via a large number of new commissions and collaborations with composers, to researching the furthest limits of organized sound. The artists are highly versatile creators and performers that aim to amaze time after time, in every setting imaginable, exploring the traditional instruments as well as all forms of experimental ones; porcelain, equine jaws, glass or 3D-printed instruments.

The New York Times described Slagwerk Den Haag as '…dazzling percussion group, similarly combined virtuosity and theatricality…'."
-
Unsounds
-
Emusic
-
Soundcloud
Yannis Kyriakides

- "was born in Limassol, Cyprus in 1969 , emigrated to Britain 1975 and has been living in the Netherlands since 1992. He studied musicology at York University, and later composition with Louis Andriessen and Dick Raaijmakers. He currently lives is Amsterdam with his wife and two sons.

As a composer and sound artist he looks for ways of creating new forms and hybrids of media that problematize the act of listening. The question as to what music is actually communicating is a recurring theme in his work and he is often drawn to the relation between perception, emotion and language and how that defines our experience of sound. In the last years his work has been exploring different relations between words & music, both in concert compositions and installations through the use of systems of encoding information into sound, synthesizing voices and projecting text to music. The latter work has led to about 20 music text films that play on the idea of imagined or inner voice. . . . ."




Holographic is the new album and series of performances from Paris-born composer Daniel Wohl. The album, released on January 29, 2016, was co-produced with Paul Corley (Oneohtrix Point Never, Tim Hecker, Ben Frost) and features contributions from Lucky Dragons, Olga Bell, Caroline Shaw (Roomful of Teeth), Bang on Can All-Stars, Mantra Percussion, Mivos Quartet and Iktus Percussion. In a groundbreaking new model, Holographic was commissioned by pioneering organizations Liquid Music (of The Saint Paul Chamber Orchestra), MASS MoCA, Baryshnikov Arts Center and Indianapolis Museum of Art.
- "Paris born composer DANIEL WOHL draws on his background in electronic music to create works that intimately merge electronic and acoustic elements. His distinctive hybrid format has earned him praise as one of his generation's "imaginative and skillful creators" (New York Times) "shaping our contemporary music scene" (NPR) . His music has been commissioned and/or performed by cutting-edge ensembles and performers such as Eighth Blackbird, So Percussion, Present Music, Bang on a Can All-Stars Lisa Moore, Ashley Bathgate and Vicky Chow, Talujon, Da Capo, California E.A.R Unit, Dither, Mantra Percussion, Iktus percussion and Calder Quartet, as well as the more classically-oriented American Symphony Orchestra, Albany Symphony, Ossia Symphony Orchestra, Yale Philharmonia, New York Youth Symphony, and St Luke's Chamber Ensemble. His work has been heard at Carnegie Hall, Webster Hall, the MATA Festival, the Bang on a Can Marathon, the Ecstatic Music Festival, NordKlang (Switzerland), Mass MoCA, Dia Beacon, River to River, Gaudeamus (Amsterdam), and over media outlets such as NPR, PBS, WQXR, CANAL +, TFI and FRANCE 2. . . . ."

New Amsterdam Records
-
http://danielwohl.bandcamp.com/
More Daniel Wohl at Emusers.
Ben Frost - The Wasp Factory
- "In advance of new music from Ben Frost in 2017, Bedroom Community is excited to present the definitive recorded version of his 2013 opera and directorial stage debut, The Wasp Factory, based on the novel by the late Iain Banks.
- "Setting his unwitting characters against the backdrop of vast, implacable forces of nature—storm, sea, fire, and even their own madness— Frost reaches deep into his formidable arsenal to reveal an unexpected warmth, from the composer of electronic experiments like AURORA and Theory of Machines. The focus here is on the live sound of the Reykjavík Sinfonia, recorded in Abbey Road's Studio II and, for the first time, the human voice. He sets David Pountney's Libretto to tuneful, even soulful vocal lines; an extraordinarily unreliable narrator describing scenes of extreme violence and horror in music of incongruous loveliness. Rather than attempt to represent his protagonist onstage with a singing, acting boy, Frost infamously cast an ensemble of 3 women to give voice to his dissociated internal monologues: Lieselot De Wilde, Jördis Richter and Wildbirds & Peacedrums' own Mariam Wallentin. And just as he did with the highly detailed instrumental writing on his albums like AURORA or Sólaris (composed with Daníel Bjarnason), here Frost creates a seamless collaboration of performer and interpreter, each singer and each player fully and sensitively inhabiting their respective nuanced parts. And the recorded result defiantly stands apart from the realm of traditionally "classical recordings", framing in the highest definition every moment of this studio performance - the confrontationally close breath of strings and vocalist alike push and pull against a range of digital shapes and textures. The Wasp Factory is not too far from those albums in terms of continuity with Frost's thematic obsessions. Like Sólaris, which was inspired by another so-called "sci-fi" novelist's literary masterpiece, The Wasp Factory asks what it means to be a human being, and what happens when that human being gets lost in the labyrinth of his own psyche. And like AURORA, and By the Throat, it asks where—and whether—the boundary can be drawn separating the human animal from the terrible, destructive brutality of nature."
-
Also on Emusic
.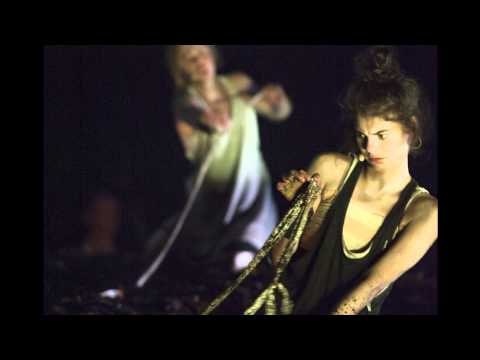 Ben Frost on directing and composing The Wasp Factory (The Royal Opera)



An operatic oratorio for four singers, piano trio, percussion and chorus by composer Andrew Staniland and poet Jill Battson
Wayne Strongman, Conductor
Neema Bickersteth, soprano; Krisztina Szabó, mezzo soprano; Peter McGillivray, baritone; Marcus Nance, bass-baritone
The Elmer Iseler Singers
The Gryphon Trio
Annalee Patipatanakoon, violin; Roman Borys, cello; Jamie Parker, piano
Ryan Scott and Mark Duggan, percussion
Dark Star Requiem is at once intended to be challenging and joyous, complex and beautiful. A sequence of 19 poems charting a short history of HIV AIDS unfolds over the course of 14 musical movements. The poems vary stylistically from linked haikus, to ghazals, to praise poems and back to free verse. The musical movements are unified through a haunting melody and driving rhythm derived from the numbers attributed to HIV-1 and HIV-2 by the International Committee on Taxonomy of Viruses: 00.061.1.06.009. and 00.061.1.06.010. In musical terms these numbers are interpreted in both melody and rhythm.

-
Canadian Music Centre (Centrediscs)
Composer Andrew Staniland has firmly established himself as one of Canada's most important and innovative musical voices. Described by Alex Ross in the New Yorker magazine as "alternately beautiful and terrifying", his music is regularly heard on CBC Radio 2 and has been performed and broadcast internationally in over 35 countries. Andrew is the recipient of the 2009 National Grand Prize in EVOLUTION, presented by CBC Radio 2/Espace Musique and The Banff Centre, top prizes in the SOCAN young composers competition, and the 2004 Karen Keiser Prize in Canadian Music. As a leading composer of his generation, he has been recognized by election to the Inaugural Cohort of the College of New Scholars, Artists and Scientists Royal Society of Canada in 2014.

Andrew has been Affiliate Composer to the Toronto Symphony Orchestra (2006-09) and the National Arts Centre Orchestra (2002–04), and has also been in residence at the Centre du Creation Musicale Iannis Xenakis (Paris, 2005). Recent commissioners include the Gryphon Trio, Les Percussions de Strasbourg, the Toronto Symphony, cellist Frances-Marie Uitti, and American Opera Projects. Andrew is the lead composer/educator with the Gryphon Trio's Listen Up! education initiative, created and produced in collaboration with the Gryphon Trio and music educator Rob Kapilow. Andrew also performs himself, both as a guitarist and working with new media (computers and electronics). Andrew is currently on faculty at Memorial University in St John's Newfoundland.
#5:
- "Humankind seems to teeter between hubris and paranoia:the hubris of our ever-growing power contrasts with the paranoia that we're permanently and increasingly under threat.
At the zenith we realise we have to come down again...we know that we have more than we deserve or can defend, so we become nervous.Somebody, something is going to take it all from us:that is the dread of the wealthy.Paranoia leads to defensiveness, and we all end up in the trenches facing each other across the mud.

On a musical level,
I wanted to make a record of songs that didn't rely on the normal underpinnings of rhythmic structure and chord progressions
but which allowed voices to exist in their own space and time, like events in a landscape.
I wanted to place sonic events in a free, open space.


One of the starting points was my fascination with the First World War,
that extraordinary trans-cultural madness that arose out of a clash of hubris between empires.
It followed immediately after the sinking of the Titanic, which to me is its analogue.
The Titanic was the Unsinkable Ship, the apex of human technical power,
set to be Man's greatest triumph over nature.
The First World War was the war of materiel, 'over by Christmas', set to be the triumph of Will and Steel over humanity.
The catastrophic failure of each set the stage for a century of dramatic experiments with the relationships between humans
and the worlds they make for themselves.


I was thinking of those vast dun Belgian fields where the First World War was agonisingly ground out;
and the vast deep ocean where the Titanic sank; and how little difference all that human hope and disappointment made to it.
They persist and we pass in a cloud of chatter.


Written in the late sixties, Lou Reed's song 'I'm Set Free' seems even more relevant now than it did then.
Perhaps anybody who's read Yuval Noah Harari's 'Sapiens' will recognise the quiet irony of "I'm set free to find a new illusion"...
and its implication that when we step out of our story we don't step into 'the truth' - whatever that might be - but into another story.

This album is a succession of interleaved stories.
Some of them I know, some of them I'm discovering now in the making of them.

Wave. After. Wave. After. Wave."

http://www.brian-eno.net/
About the title track:
"The piece started as an Ambient work intended for a multi channel sound installation in Stockholm, but during the making of it I discovered that I could now sing a low C - which happens to be the root note of the piece. Getting older does have a few fringe benefits after all. From that point the work turned into an unusual kind of song...a type I've never made before where the vocal floats free, untethered to a rhythmic grid of any kind."
-
Brian Eno
.